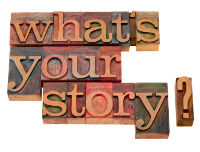 In addition to valuable nuggets and gems to enhance your business or career….what you will discover here, is that I am a sucker for stories…… stories that prompt change at the core of who one is.
I'm partial to stories that make a difference – presented or told at just the right instant, with a message needed and conveyed. Similar to a professional musician knowing what song to play for a particular audience. (Country singer Billy Dean tells a brief story of falling in love at 16 prior to singing "We Just Disagree" in concert on the album 'Live from the Archives of 650am Wsm, Vol. 1'. The story has love, foolishness, risk, adventure and revenge which resonates with us all).
Although I do not recall my first story of influence, I do remember gobbling watermelons as a little boy and being nagged and berated to stop eating the seeds. One day, when shopping, mother pointed to a lady with child and asked me if I knew how that happened? (if I were older, I'm sure I would have blurted out, "It wasn't me!") and I said no. Softly, my mother said "she ate the watermelon seeds." To this day,I do my best to remove all seeds (let's not go down the parenting fibbing road, that's for another story). Mother's story was shared with timing and soft but effective impact. My mother shared many stories with us that my brothers and I continue to use today.
In our careers, there can be times where a strategic story can make all the difference.
At lunch, a General Manager shared that he was wrestling with what to do with one of the managers working for him. The manager was a wonderful person but was not getting the job done. After numerous attempts to correct this he determined that he needed an exit strategy and was not sure how to do this in the respectful way he felt the situation warranted.  I remembered reading a great article ( 'How to break up with an employee' from Inc. magazine by Dave Balter of BzzAgent ) and sent him the link. Due to this article, he was able to have an amicable disconnect and remain colleagues,  ( Right song, Right time).
In her later years I would often visit my grandmother and sit at the kitchen table spilling the beans about my adventures. (Who better to give a listening ear than granny). She once asked how business was going and I proceeded to point out the challenges when she commented, "Boy, you need to get off your butt and sell something!", and here I am. The impact was effective, from someone I loved.
Oh, I hope you will discover here valuable stories to prompt change and progress toward your goal, as I have been fortunate enough to experience. What a ride!
On to the next story.