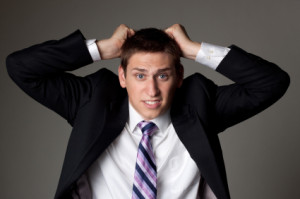 After retiring from a successful and fulfilling career, George shared one of his few regrets: refusing to the shake the hand of a supervisor who had continuously berated him early in his career. George vehemently disliked the supervisor, having felt diminished and demeaned by his actions. After the man's passing however, George realized that the man was actually a catalyst for his professional improvement. The supervisor pushed him to work hard and excel, propelling his tremendous success.
Why No Handshake?
George viewed his experience as mayhem.
Challenging situations such as George's, are unwelcome and uncomfortable. When looking back at the "big picture", these situations present an opportunity for personal growth.  George could not change his supervisor's condescending ways, but can control his perception of and prevent a feeling of regret.
Stalling and procrastination are used to avoid anticipated mayhem created from an uncomfortable relationship. When an individual is stalling they recognize change needs to occur but feel it may not be worth the effort. Common reasons for stalling, include personality conflicts, relationship tensions, unwillingness to invest time and energy, an inability to envision the end result, etc. When an individual engages in stalling behaviors acceptance becomes the standard and a "we're getting by" mentality ensues. Essentially, the end result is stagnation.
Changing our view to tough situations will support our development, for example:
. . . It starts in the mind. When in the thick of mayhem, try this:
Shake it Off
Look at the larger picture
Maintain Composure
Commit to contribute
Focus on what you want to accomplish
George Bernard Shaw is credited with the quote:
Progress is impossible without change, and those who cannot change their minds cannot change anything.
Remember: Circumstances that may appear adverse are often catalysts for growth, but only if you choose to view it this way.