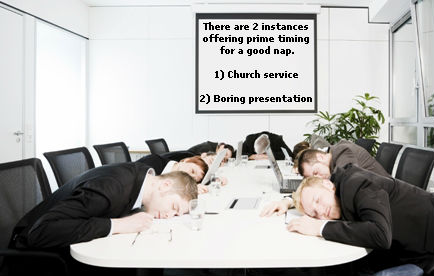 While consulting with a firm of about 70, I was asked to review phone systems for purchasing (Simple enough).
We arranged a presentation with three of the most popular vendors, gave them budgets and desired features.
The first presentation lasted 2 hours, overusing powerpoint and industry language unfamiliar to us. (JIMINY CRICKETS! This felt like Carmen describing, in great detail, first thing in the morning, a dream she had.) There was little interaction and the budget was outside the boundaries. Also, the blatant bashing of their competition surprised us.
We tried to be more clear and shorten the time with the other 2 presentations to no avail. You would have thought we were purchasing a system for a motel chain.
I recieved a call late one evening from a gentleman who'd heard we were in the market for a phone system  (the thought of another 2 hour stint was not appealing right now). I said no thank you and he said "Just give me a shot at the plate, 20 minutes" (where was he in the beginning?), I relented.
He thanked us for the opportunity, (the only one to do so) and asked what problems we were having with the existing system. He then addressed the budget concerns and our desired features. At the 20 minute mark, he asked if he should continue a little longer. Of course we said yes, due to his respect and conciseness. They chose his firm for the phone system for around 80k. They did in fact expand and buy more phone systems worth 100's of thousands. (the company's installation and maintenance department were also exceptional).
All from a respectful cold call.
What went wrong with the other more popular larger firms? Were they arrogant? Contract too small? Were they trying to mesmerize and razzle dazzle?
Here's what the successful salesperson and his company did:
Asked for legitimate opportunity.
Committed to a short time frame.
Showed interest in the client's concerns.
Focused on building the relationship with the person in front of them.
Eliminated puffery and fluffery.
Followed through with great service.
The definition of PRESENTATION runs the gamut. From appearance, to the receptionist, phone skills and marketing, to name a few. It's all presentation. But defining it, for your goals, is important enough for serious 'hard work' effort. An impressive 'whiz bang' presentation is not a guarantee for results.
As an aside, the company selling the phone system was Hampton Roads Communication Technologies. A progressive company where the owner threads from the old Bell telephone companies and believes that a handshake and your word are as good as a contract. Also, a concise, understandable presentation focused on the customer.