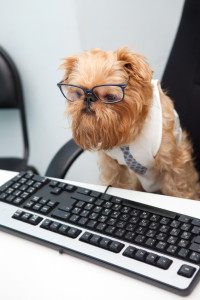 When coaching  / consulting people in professional development and growth, is it possible you're hindering vs helping?
I admit it, I tried to kill Carmen's 3 legged, 10 pound dog. ( he does not know he has 3 legs. Ever witness a dog do his business on a tree with the leg he does not have? )
It wasn't intentional.

When he gives me that big brown-eyed look, starts staring, and jumps with joy when giving him food or treats, I go crazy with what I thought was love. I want him to be happy and enjoy his existence. Before long, he was up to 13 pounds, which made it difficult for him to move around and climb the stairs. It was a lot of weight to carry on his 3 legs.
Fortunately, I came to my senses and realized I could not give him everything he wanted. I needed to protect him from his lizard brain where he ate everything in sight ( who knew little dogs liked green beans ). I also had to accept the fact that I was wrong in how I expressed my caring for him and changed my view!
After reflecting on this, I began to wonder if I was doing the same thing in my work as a consultant / coach.
Some questions I asked myself were:
Am I overly supportive?
Do I issue compliments arbitrarily hoping for respect and connection so I can accomplish my goal?
Do I rush to save them from some uncomfortable circumstance, (to feed a 'I can save the day' syndrome)?
Am I letting my personal view allow me to be too harsh?
The popular television show, The Voice,  has examples of the above components. If you observe the judges, they can be so sappy in trying to acquire talent for their team to win the competition  ( My favorite is USHER, he may not win, but he comes across as authentic in trying to really contribute to the person he's working with and this shows through in his pitch to the person ).
Naturally, we all want to accomplish our goal, but could we be more objective in evaluating how to get there?
There is no 'one size fits all' answer in our roles of responsibility, but we can stop and ask ourselves, "Am I actually hurting by thinking I'm helping".
In this context, does one become a protagonist of positive change or an enabler of degradation?