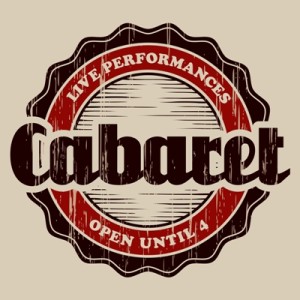 Carmen and I recently accepted an invitation to the showing of Cabaret at the community theatre. The play, which featured a friend of ours, was absolutely lovely. The actors, who were all volunteers, gave a beautiful and moving rendition of the story. I don't see any point in critiquing the performance, as I have no talent in that area. I think I may have seen the movie yeas ago, as both the title of the play and the musical score were familiar to me but I had forgotten what the play was about. If you're in the same boat you can read a read a synopsis of Cabaret.
The setting is 1931 Berlin, during the embryonic stages of the Third Reich. It is a dark story told beautifully through music. But I could not help but find myself wondering, why such a lighthearted portrayal? I think it is because this manner of rendition ensures the story's survival and it is a story that must never be forgotten.  I found myself quite moved, reminded of human shortcomings and fallacies, as well as the barriers to both civil and personal development. Here are some points I thought about:
Fear is paralyzing. Every individual has unique fears and nobody is totally immune to fears; we all have them. I've seen seemingly confident, fearless people crumble at the site of a black widow. The point is that everyone has something they fear. If one finds that fear is impeding his or her development, it is helpful to take the wise words of Eleanor Roosevelt into consideration: "You gain strength, courage, and confidence by every experience in which you really stop to look fear in the face. You must do the thing which you think you cannot do."
Change is scary.  Small changes do not bother us so much as the huge ones. When our lives are disrupted, we can have a sense of fear about the future. For many, during the era of the play, the worst fears did become a reality. As some ran from the trouble, the courageous fought on and in some way, were the better for their efforts. During times of significant change, we benefit from maintaining a healthy attitude, relying on our support systems and looking for ways to contribute.
Don't ignore. Only later in life did I read that the Ostrich does not bury its head in the sand. Growing up, I think we all heard this story when someone coached us out of ignoring an important circumstance. Granted, strategic ignoring is good, many times things work themselves out, the key is, conscious ignoring as a solution vs.  wishing something away.  Ignoring a tough situation is not productive and generally makes things worse.
There is always a back-story. A good example of back-story is from the late Dr. Steven Covey discussing his observation and assumptions made of unruly children on the subway with their father. ( You can see it here beginning at  minute 6:10 to 7:21   Dr. Covey on Youtube  ). Although his story is about paradigm shifts, it is also a good representation of the back-story behind present circumstances. I try to be open to the back-stories and this has proven to be very productive. Here is a favorite mantra question I use often, "So, why do you ask?", or some variation. Understanding, realizing and discovering the back-story can be a game changer!
Recognizing that something is wrong and doing something about it are two totally different things. "Knowing the problem is half the solution". I'm not sure who coined this one, but it has not been accurate in my experience. Granted, not knowing can be bliss ignorance, but most times, people know but choose not to act. When you realize that something isn't right it's always better to take action to address the situation, (I know, easier said than done). It appears that it takes less energy to act courageously than the energy it requires for worry and anxiety.
Appreciation. After seeing Cabaret, I am more appreciative about the time I live in and the country I live in.  
Although in today's world there are challenges, they are very different – but still require the leadership components which remain the same throughout.
The above thoughts may or may not apply to specific situations you have found yourself in. However, it's always good to remember that effective leadership requires that we remind ourselves of these points and cultivate courage, empathy, challenge, execution and appreciation in our civil, organizational and business relationships.   Just a thought.