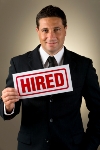 No question the job market is tough, especially for young people and recent college grads. I empathize with all struggling to find employment.
Two college graduates recently impressed me by landing jobs, receiving promotions and strengthening their professional relationships in a relatively short time. This was refreshing as both of these young people were children of friends and lived in different parts of the country.
HOW? and  WHY? were these young people able to do this in today's business environment? Can this be replicated?
I've recruited, interviewed, and employed many people which gives me some insight.
Here are my observations about these 2 young people:
'Accumulation of Opportunities'
Malcom Gladwell  in his book Outliers brought up 'Accumulation of Opportunities ' where he minimized the existence of outliers  (people achieving at a high level with no cause other than innate super intelligent ability). The evidence presented noted famous people of accomplishment had a back story of accumulated opportunities, either in upbringing, mentors, impacting education or timing, to name a few. This is inspirational as it re-affirms – hard work still pays off.
A challenge is to review past experiences with an eye towards translating these for present opportunities. In a piece by Anne Kreamer for Harvard Business review, Ms Kreamer quoted Steve Jobs from a WIRED magazine article in 1995:
"When you ask creative people how they did something, they feel a little guilty because they didn't really do it, they just saw something. It seemed obvious to them after a while. That's because they were able to connect experiences they've had and synthesize new things… A lot of people in our industry haven't had very diverse experiences. So they don't have enough dots to connect, and they end up with very linear solutions without a broad perspective on the problem. The broader one's understanding of the human experience, the better design we will have."
Everyone has 'diverse human experiences', but there is a tendency to simply define them (good, bad, etc.) versus translating these experiences for present value.
Yes, my friends had opportunities, but they still made the effort to internalize and apply them wisely. You've obviously heard of people who squandered their opportunities.
Point: Everyone can apply knowledge and wisdom based on their unique 'accumulation of opportunities' to present value!
 Self Presentation
In an interview, the comedian Chris Rock stated that when he goes on stage in front of thousands who paid to see him, he understands the need to be larger than who he is when he's in jeans and a T-shirt lounging around the house. Chris is still himself, just a LARGER version when performing.
My friends above clearly realized this and presented themselves as a LARGER version of their ordinary day-to-day presence. They knew that the attitude of just be my self or take me as I am is not going to cut it in the work place.
Point: They were aware of where they were going and presented themselves better than they would everyday.
Be where you are
Interviewing is a challenge. You're relying on someone else to decide your fate and the emotional roller coaster ride kicks in.
Over the years I've observed POWER in being Authentic – being yourself (a little bigger version). Discarding past disappointments, existing challenges, and nervousness is something to strive for.
How can this be accomplished? By learning to 'BE PRESENT', in the moment.
Point: Realize that all we ever have is the present moment – shake everything else off, be AUTHENTIC, BE PRESENT, and mentally be where you are.
In this digital age, there are a ka-zillion resources available for advice on job search and preparing for an interview, the points above are meant to enhance your efforts.  DO THE WORK – winging it rarely connects to valuable circumstances!