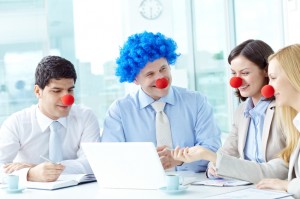 Opinions when discussing the authorized biography of Steve Jobs vary. I often hear about his quirks, but the business principles he implemented were dramatic and can be utilized in virtually any type of organization.
The first that comes to mind is Steve Jobs' "goal to be vigilant against the bozo explosion". Personally I would not use the word bozo. I may use something more affectionate to describe people that do not want to be part of a collective effort of accomplishment.(verbalized, but their actions show differently)
Jobs was impressed with J.Robert Oppenheimer and the type of people he brought together to work on the Atom Bomb Project. Oppenheimer, with less prestige than the other scientists and engineers was able to bring the project to finality in an impressive way. He had a talent for bringing the best together and creating the environment for them to collaborate.
Part of Jobs' process was his commitment to 'Collaborative Hiring', where candidates would meet with top leaders in addition to the managers. There would then be a group discussion to determine whether to move forward with the individual . Obviously key elements were important – intellect, ambition, etc., but those being equal, every leader's insight became relevant to the final decision. Based on his experience with Pixar, (all 'A' players ) Jobs went contrary to popular business thought ('A' players did not like to work together) thinking 'A' players just did not tolerate mediocre 'C' players.
The point should be made that a concise formula of evaluation did not necessarily prevail. An antidote about a young man's interview with Jobs going poorly and him leaving the office dejected. The young man flagged Jobs in the lobby and asked if he could show him one thing – which turned out to be phenomenal and is now used in the MAC Operating system along with other creative components developed by this individual whom was hired after the lobby demonstration.
If 'Ding Dongs' and 'Wing Nuts' are interviewing, and offering input on hiring decisions due to 'checking the box' of the interview process, it's highly probable there's going to be a pool of those people. Fun, right? It never was for me.
A key take away is to determine the real leaders in a group (not necessarily the ones with the titles or credentials) and let them interview and offer input. In the long run, sanity in the future could actually be a reality!